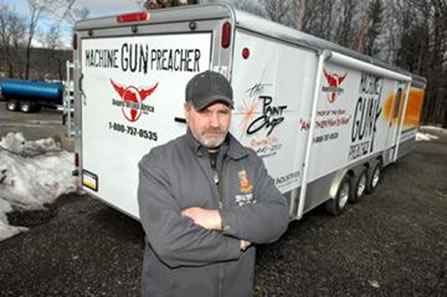 Casey Kennell spent two weeks painting a trailer that will be part of a Hollywood production.
(Staff photo by Roger Vogel, Somerset Daily American)
Kennell's work headed to the Big Screen
By BRUCE SIWY Somerset Daily American
bruces@dailyamerican.com
Tuesday, January 26, 2010 11:11 PM EST
The past few years have been especially good to Somerset artisan Casey Kennell.

"I've done this all my life and it's all I've ever done," said Kennell, who has earned his wages painting chopper motorcycles and other vehicles. "In the last two years I've (been in) at least eight magazines."

And his most recent projects may put his art on the big screen.

Kennell recently spent about two weeks on a custom trailer painting for the Rev. Sam Childers, a Central City minister whose African missionary work will be depicted in a movie tentatively named "The Machine Gun Preacher."

Childers and his wife operate a dormitory in Sudan that houses more than 300 orphans. Actor Gerard Butler has already met with the preacher, and is expected to portray him in the upcoming film.

In addition to the trailer, Kennell was contacted to complete three more paintings for the preacher: one for a truck and two for motorcycles that are to appear in the movie.

"I'd heard about (Childers), but never met him" until three years ago, Kennell said. "One day he just showed up, wanted some work done and we went from there."

Childers, also an author, is to use the trailer to haul his bikes and merchandise during his summer book-signing tour. He is to visit major bike shows across the country — from Sturgis, S.D., to Daytona Beach, Fla.

For the trailer project, Kennell said, he donated some of his materials for free. And he had help.

"It was more or less a collaboration from a lot of people," said Sean Morocco, who helped haul the trailer.

"Casey and I are good friends and I'd do anything for a friend," Morocco added. "And I think what Sam is trying to do is a good cause, honestly."

Other area residents credited for the trailers completion were Jake Hoffman for doing the vinyl work, John Valentine for spraypainting and John Morocco of Morocco Welding, who allowed them to utilize his 50-foot-long and 25-foot-wide paint booth.

According to Kennell, Childers has invited him on his summer tour and to the movie set. Filming may begin this May in Reels Corner.

He said his latest opportunities are the fortunate result of his rewarding career as a custom automotive painter.

"This is a dying art, but a lot of people still want it done," he said.

Kennell is the owner of the Paint Chop, based in Somerset.
This article was featured in the Daily American in Somerset, PA