ZZ Top Tribute Car
This car is featured in the Wizards® Products advertisement.
The car is owned by Brad Miller.
2009 National Photography Photo shoot at the Summit Diner in Somerset, PA.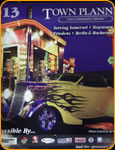 2013 Town Planer
Cover Page
Congratulations to Brad Miller for making it the Gas Monkey Garage!
Brad made the trip to Texas to The Gas Monkey Garage as the "Super Fan" winner! Keep watching Fast N Loud on the Discovery channel. The Paint Chop painted Brad's very popular car.
ZZ Top
ZZ Top's guitarist and lead vocalist Billy Gibbons checks out the murals and pinstriping on
Brad's car The Paint Chop painted and striped. What an honor to have Billy autograph the dash!!