Congratulations to Brad Miller for making it the Gas Monkey Garage!
Brad will be making the trip to Texas to The Gas Monkey Garage as the "Fast N Loud Super Fan" winner! Keep watching Fast N Loud on the Discovery channel. The Paint Chop painted Brad's very popular car.
"Fast N Loud Super Fan"
ZZ Top Tribute Car
This car is featured in the Wizards® Products advertisement.
The car is owned by Brad Miller.
2009 National Photography Photo shoot at the Summit Diner in Somerset, PA.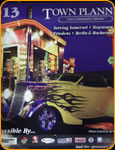 2013 Town Planer
Cover Page